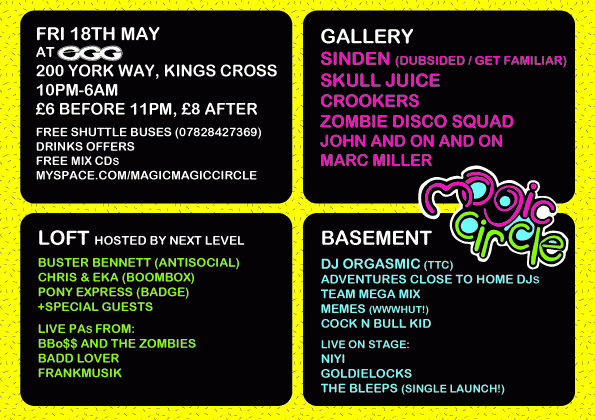 This Friday is yet another jump-off, here is the blurb....
Magic Circle kick off their monthly residency at Egg with a diverse mix of DJs, live bands, visuals and cheap drinks. Joining MC residents John and on and on and Marc Miller is Baile funk maestro Sinden, Italy's (soon to be huge) The Crookers and local favourites Skull Juice and Zombie Disco Squad.
Upstairs in the live room things get a bit more grimey with French lover Orgasmic (TTC) supplying the beats alongside Team Megamix, Nemes and the lovely CocknBull Kid. Live music comes courtesy of The Bleeps, who'll be celebrating the launch of their new single. Plus more live music from the likes of Niyi and Goldielox, and a special electro set from Adventures Close to Home.
The loft is hosted by the infamous Buster Bennett (Anti Social) and his brand new Next Level party. Expect a mix of live PA's and anything goes music.
Free shuttle buses from American carwash on York Way, Brick Lane and outside Lock Tavern. For details please call 07828427369.
Email info@egglondon for guestlist